DogWatch of the Western Slope
It's all about your dog!
DogWatch of the Western Slope is pleased to install a DogWatch® Hidden Fence System for your pet's containment, and to service the entire Western Slope of Colorado."

We are Charles and Vicci Spencer, and we established DogWatch® of the Western Slope in 2005, as a husband and wife team. We reside in Ridgway, CO and are very happy to be able to provide the dog owners in our area with the most advanced technology available and with professional, courteous service.

DogWatch's patented FM system, two year battery life, and fastest react time in the industry are a few of the features that set DogWatch above our competition. We take great pride in our training program that is included with each installation, and we work very hard to provide the best possible customer service to dog owners in our area.

"I have bred, raised and trained Golden Retrievers for many years and feel that I can successfully train your dogs to the system."

In addition to the hidden fence system, we can provide various interior systems for keeping pets out of unwanted areas, and training products for controlling pet behavior while they're at home and away from home. We would be very happy to help you.

What our four-legged customers say after they use a DogWatch Hidden Fence:
"I will run free in my own yard."
"I will chase balls instead of cars."
"I will jump and frolic."
"I will run after sticks and squirrels, but never mailmen."
"I will run aimlessly and shamelessly."
"I will be free, and I will be safe."
Service Area
We provide services to customers in the Western Slope Colorado area, including the towns and cities of Aspen, Carbondale, Delta, Durango, Glenwood Springs, Grand Junction, Montrose, Ridgway and Telluride, Colorado and the surrounding area.
Get a Free In-Yard Estimate!
Our representatives will meet you at your home for a free in-yard estimate. We will help assess your needs and customize a solution that suits both you and your pet. Call today or schedule an appointment to get things started!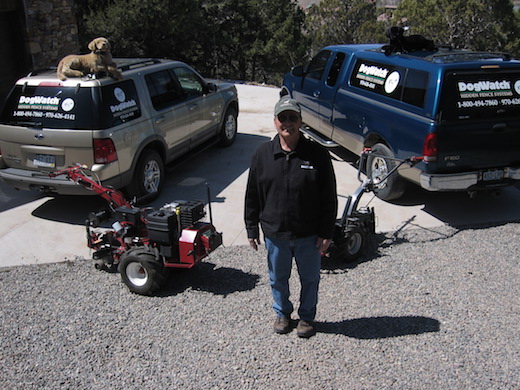 Why Choose DogWatch of the Western Slope?
1. Our number one concern is the safety and well-being of your pet. We provide the support you need to ensure successful training and happy containment.
2. We provide a proven PetFriendly™ training program. We train your dog (or cat) to recognize the boundary flags and the audible warning signal (or vibration) before introducing the correction.
3. We are experienced professionals committed to providing excellent customer service and support. We strive to service every customer promptly and courteously.
We want to hear about your experience! Write us a review on Google+
Simply the best. No getting around it.™
Another reason to choose DogWatch of the Western Slope is that we are an authorized DogWatch dealership. The DogWatch Hidden Fence is the most technologically advanced and the easiest to use, and it is backed up by a no-hassle Lifetime Warranty from a company with more than 25 years of keeping pets happy and safe.

What makes us Simply The Best?
---
Customer Testimonial
The peace of mind we have now is priceless. It was money well spent! Thank you for your wonderful product, your expertise and your kind attention to our training as well as Pringles training.
Kathy